crawler page
Movie Info:

Release Date: Summer 2003
Distributor: Warner Brothers
Production Company: Village Roadshow
Directors: Larry and Andy Wachowski
Screen Writers: Larry and Andy Wachowski
Producer: Joel Silver








Wassup: Wassup Samantha???

New Site: The Official The Matrix Website now has an area for The Matrix Reloaded. None of the links work, but hopefully the site will soon come to life. The address is http://www.whatisthematrix.com/cmp. Be sure to check this site often.

Actor removed: It was recently announced that none of the footage featuring Aaliyah will be used. Her part will be taken over by a different actress that has yet to be officially announced.

New Character Revealed: It's not official, but Dark Horizons revealed information about a new character. Actor Lachy Hume claims to play Sparks, the operator of Niobi's ship, the Logose. He is just like Tank: He was born free, without plugs, and therefore cannot enter the Matrix.

Joel Silver: Joel Silver, the producer, has been talking about The Matrix Reloaded in the following article released by Coming Soon! Basically: The movie is going to cost a TON, and that's a good thing. Keanu is a hard worker, which allows him to bring better than cutting edge performances to the screen. Lastly, a spoiler: "At the end of the first sequel there's a car chase that takes place in the matrix. It's just so beyond anything you could ever imagine because there are no laws, no rules in that computerized world." Mr. Silver seems extremely excited about this movie, claiming that the fans will not be disappointed.

New character announced: Clayton Watson will play a new character, The Kid.

Actress Death: Gloria Foster passed away 29 September 2001. Apparently she had finished The Matrix Reloaded.



Actress Death: Aaliyah died in a plane crash 25 August 2001 after filming a music video. There are rumors that she had finished 80% of her filming in The Matrix Reloaded, and there are rumors that she had not started filming. Recasting has begun, but no official actress has been cast to the part.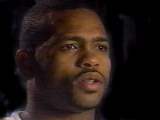 New character announced: Wrestler Roy Jones, Jr. will play the character Captain Ballard.






New release date announced: Probably May 2003, possibly 21 May 2003

New release date announced: Summer 2003, possibly 21 May 2003

New actor announced: Wrestler Roy Jones, Jr.

New release date announced: 25 December 2002

Possible release date announced: May/June 2002